For our last preperations for NMUN 2019, we went to Berlin on a diplomatic mission. The following German Model United Nations (GerMUN) was the very last conference before we're off to New York City. Our delegate Ruth is reporting.
Right after we arrived in Berlin at 26th of February we headed directly to the Iranian Embassy. As we get to represent the Islamic Republic of Iran in New York, we were very honoured to get to speak to a real-life Iranian diplomat. The Embassy is a beautiful white building in a very normal-looking neighbourhood in Berlin. We got to spend three hours with Mr. Gholipour, who was very nice and answered all our questions. He provided us with lots of information and a small view into the mind of an Iranian. Personally, I feel confident about being able to stay "in character" as our professor likes to put it. As I am writing this, I am still trying to process all the impressions I got.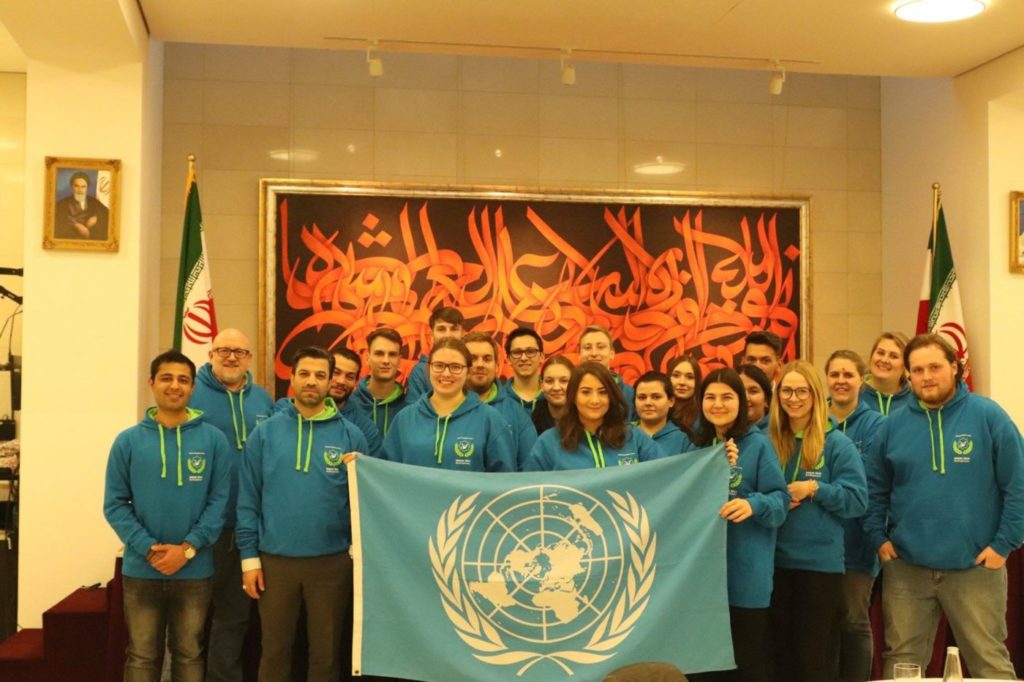 On Wednesday we had to leave our beds early to go to the German Ministry of Foreign Affairs. The gentleman talking to us was not only an expert on Iran-related topics, but also has been a part of the NMUN project some years before. He was able to explain certain aspects of the Islamic Republic of Iran from an external point of view and even had some advice for our upcoming conference. Another plus was, that we got bags with gifts and snacks like gummy bears.
As we left the Ministry, we headed to the German parliament. It took some waiting but finally we were seated in the big plenary. We heard an interesting talk about the history of the building and the structures of our government in general. In the end, we took the chance to go up to the roof of the building. Sadly, the dome was closed, but we had a wonderful view over Berlin.
In the evening we enjoyed an Iranian meal together in a small restaurant. It was a great adventure with a rather unusual kind of food for us. And some Safran ice cream for dessert.
Full concentration on GerMUN 2019
On Thursday we left for the GerMUN conference at Wannsee. I was very happy to meet some of the people from Trier that we had already met in Blankenheim. But I also got nervous as the first session came closer. There were so many different delegations that seemed well prepared. Then, after I totally screwed up my first speech in front of 50 delegates and others, the last bit of confidence had left me. But the session went on. The agenda was set, and I found a working group with some great ideas. As the sessions went by, we developed good ideas and even a strategy to achieve our goals.
And then it was time to find merging partners, as we were told to reduce our 8 working papers to 3 draft resolutions. I talked to many different delegates and working groups. They all said, they didn't see any way they could merge with us. I found myself getting really frustrated as the time went by and the deadline was getting closer and still, we had our very lonely working paper. It was exhausting to keep up talking to people without getting advice even when we asked for it. Finally, we found another paper to merge with and I could feel the stress leaving my body.
It's not always easy to be a delegate
But not only for me it was quite an exciting time. For two of our delegates it was their first conference as they were not able to attend the conference in Blankenheim. It was great to see how everyone tried to help them as good as possible. Others had a hard time representing their assigned Member State. I will not forget one of the most relaxed delegates telling me that he cried for 30 minutes after he felt like all the pressure was gone. I think everyone was able to learn something about themselves and we all saw how we could make it through a stressful and exhausting conference.
The most fun we had, of course, at night. I had some great talks and discussions with other delegates. Not only about the conference but also about the bible, gender-roles and racism, to name just a few topics. Everyone there was very openminded and had a great way of explaining their point of view which led to very enjoyable discussions. I made some great connections and I am looking forward to seeing them again in New York.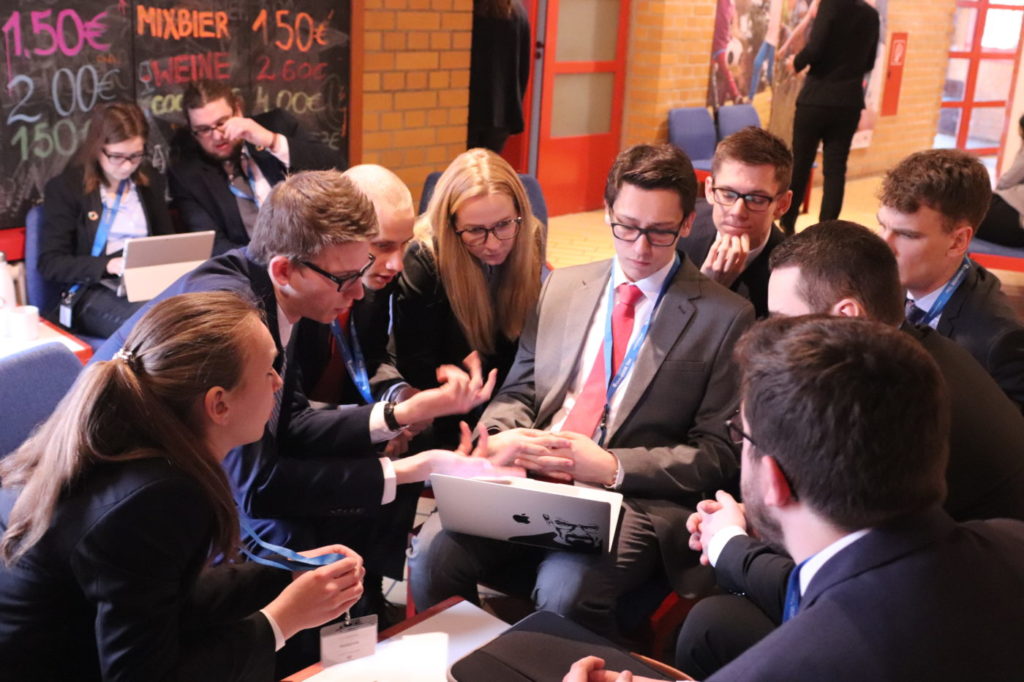 At our last lunch after the closing ceremony, I think most of us felt exhausted and were looking forward to our beds at home, but we were also very euphoric and proud of ourselves.
We had some very exhausting days with much to less sleep and some very long days. I feel very proud to be a part of this project and this delegation. It was some very hard work, but I was able to learn a lot about myself and others and I made some friends from all over Germany and even the UK (as there was one delegation form Southampton).
Gallery: GerMUN 2019